DELIVERING TIMBER ENGINEERING EXCELLENCE
Open Metal Web Joists – Our choice of floor joist
Joist Systems
When choosing a floor joist system or a flat roof system, the range of options on the market can be confusing. They all have their own advantages.
Merronbrook has specialised in timber construction in south east England for thirty years and in that time, we have found that open metal web floor joist systems offer the best value to suit our customers' requirements.
The modern dwelling has an increasing number of services running throughout it, so the ability to run services easily through the floor zone is essential. Traditionally, the floor zone would be cut, notched and drilled to accommodate these services. This not only increases works on site but could severely compromise the performance of the joist system.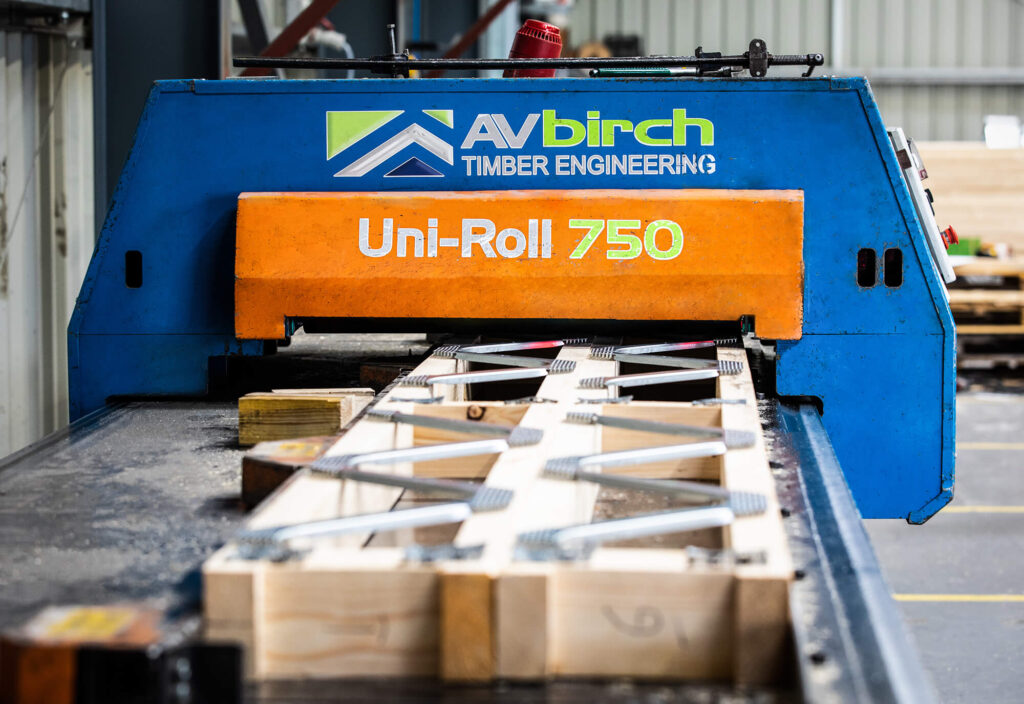 Metal Web Floor Joists – The Smart Choice
Open metal web joist systems have become the smart choice for developers, due to the many benefits they offer from longer spans to greater service-carrying capacity and design flexibility. Merronbrook uses the easi-joist® system from Wolf®, chosen for its innovative design options, years of engineering excellence and integration with our existing products. Specifying easi-joist® eliminates the requirement of drilling or notching with its ability and outstanding flexibility to accommodate the design-on-site approach of any modern home, commercial or industrial buildings.
For more information, please see our FAQs page.
What Is Easi-joist?
Easi joists are parallel chord trusses using stress-graded timber chords, plated together with Wolf Systems patented, precision-engineered webs.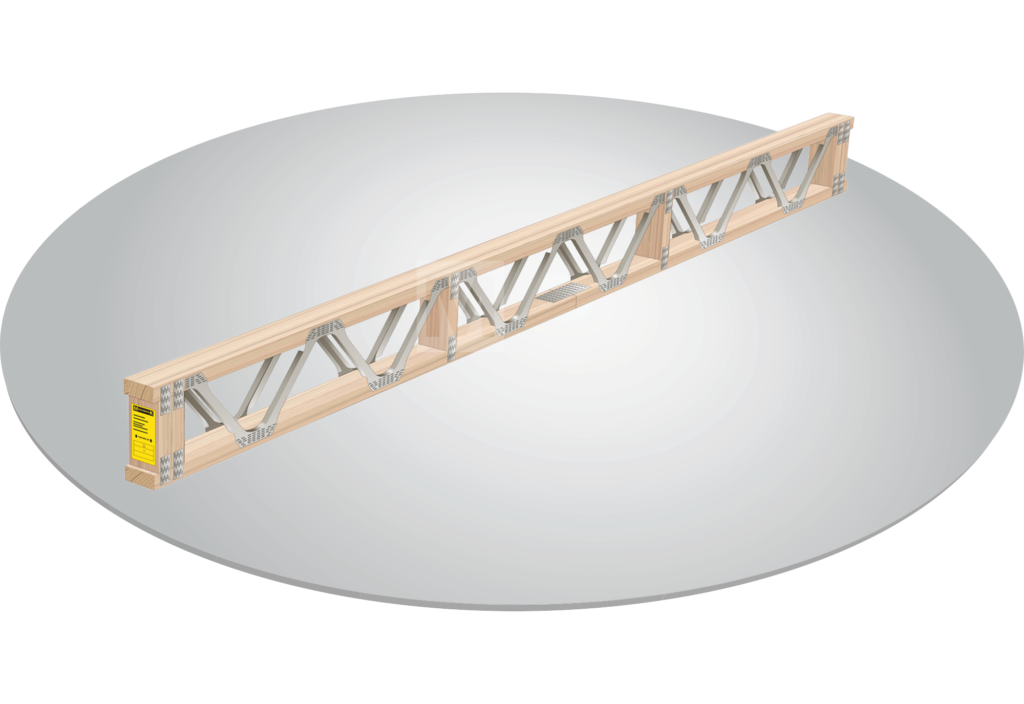 Profiles, end widths and depths, based on single joists.
Merronbrook's offering of the easi-joist® is available in 4 depths from 219mm to 417mm, utilising 47mm top and bottom timber chords. The widths vary from 72mm to 147mm and can also be constructed as double joists, if required. Fixing multi-ply joists is to be carried out to metalwork suppliers' instructions using propriety fastening screws. Depth, width, and centres will all be determined by easi-joist® software.
Easi-joist® is designed to allow for easy accommodation of electrical, plumbing, wastewater and other services required within the floor joist area with no cutting or nothing required.
The Easi-joist®, Depths and Widths Range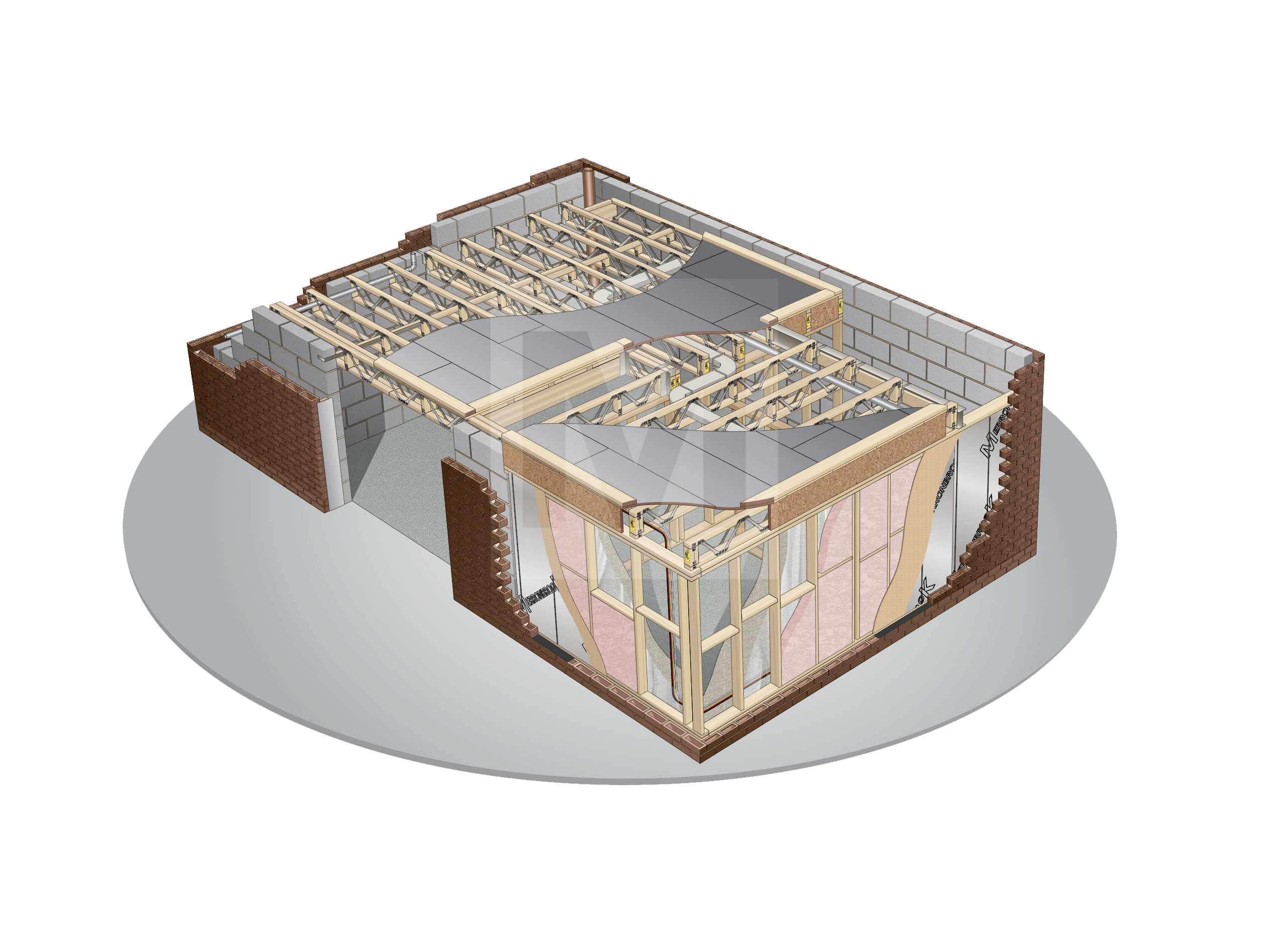 Easi-joist® Masonry Hangers with Perimeter Noggins Detail
Easi-joist® Strongback Size and Installation
Easi-joist® Built into Block Wall Detail
Easi-joist® Joist to Joist Hanger Detail
Easi-joist® Horizontal Restraint Strap Detail
Easi-joist® Joist to Panel and Rim Board Detail
Easi-joist® Joist to Joist 'Top-Chord Support' Detail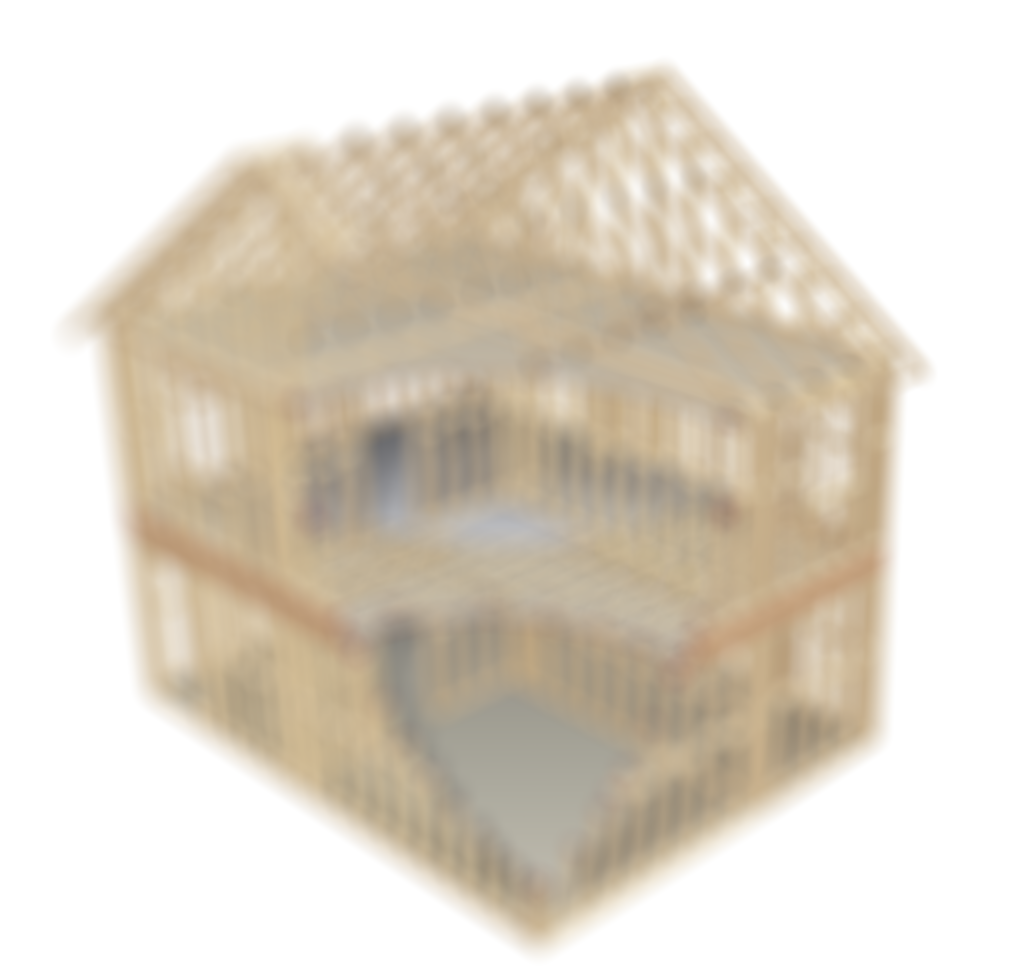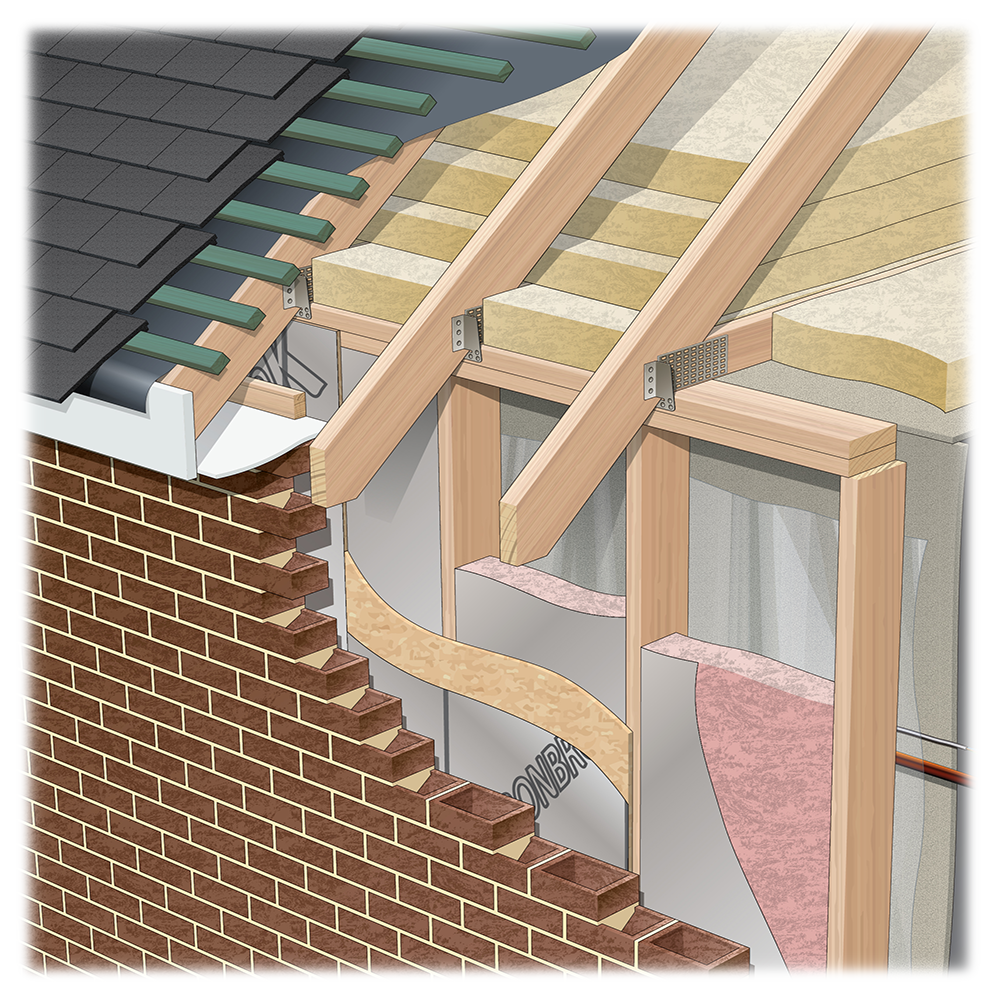 Eaves Detail
Back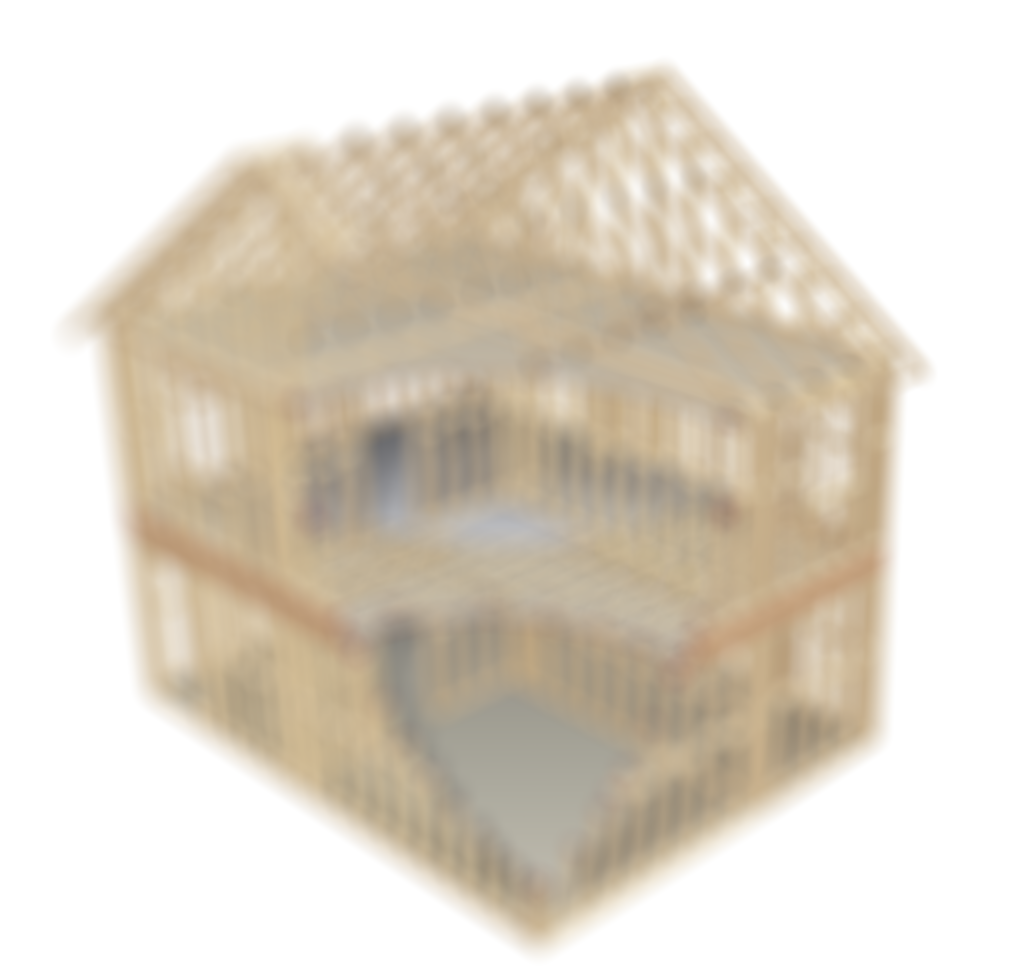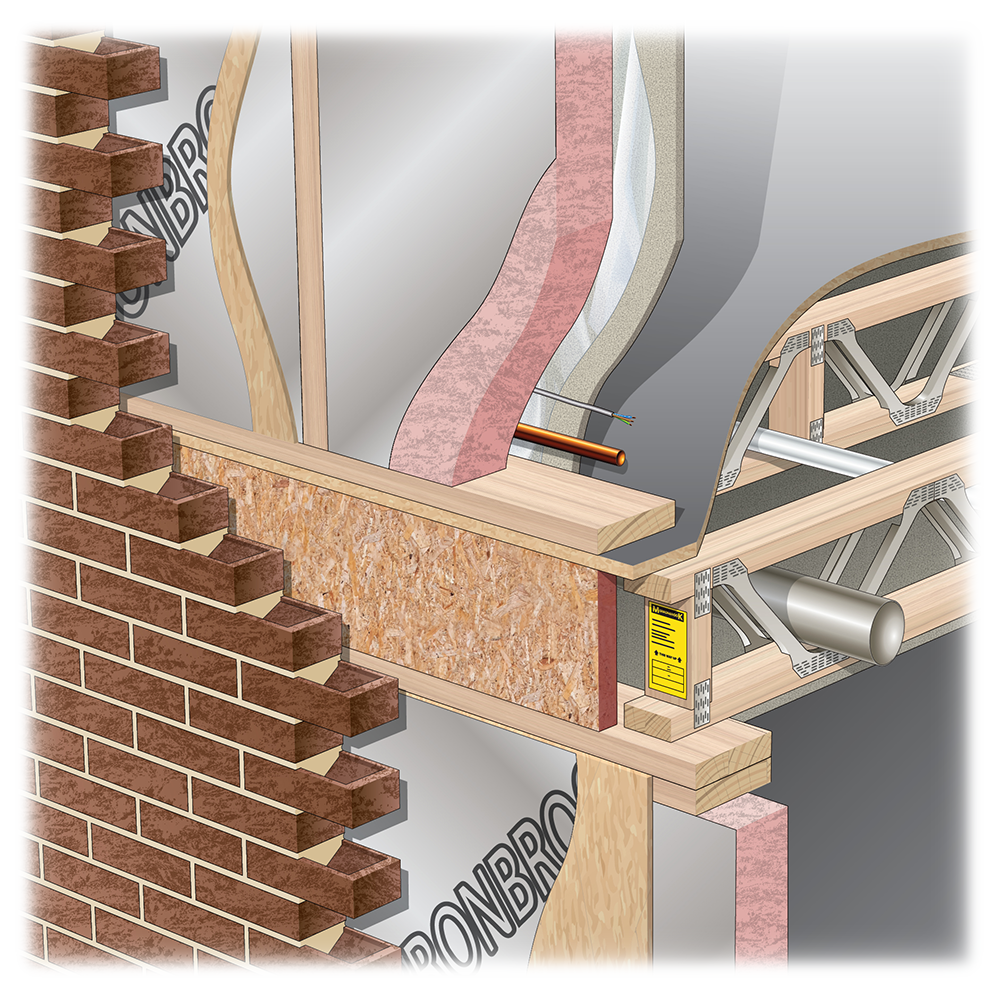 Floor Edge Detail
Back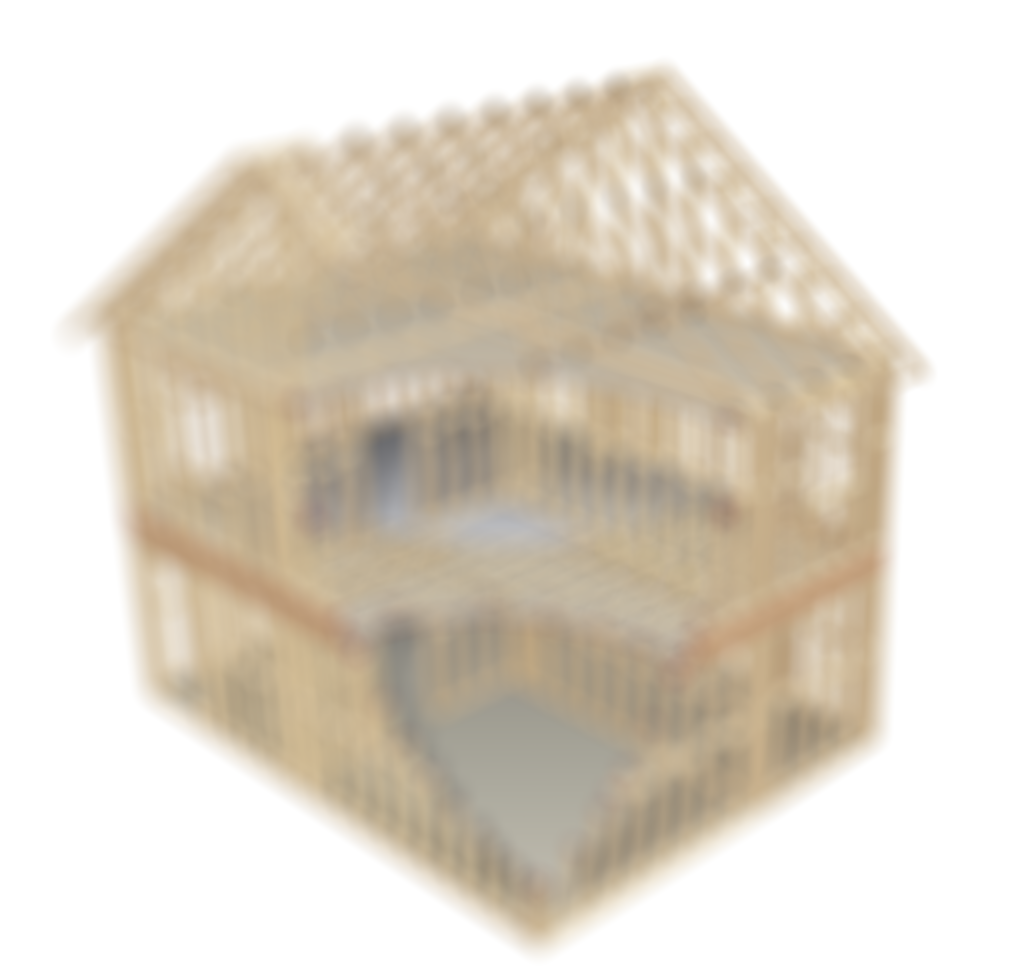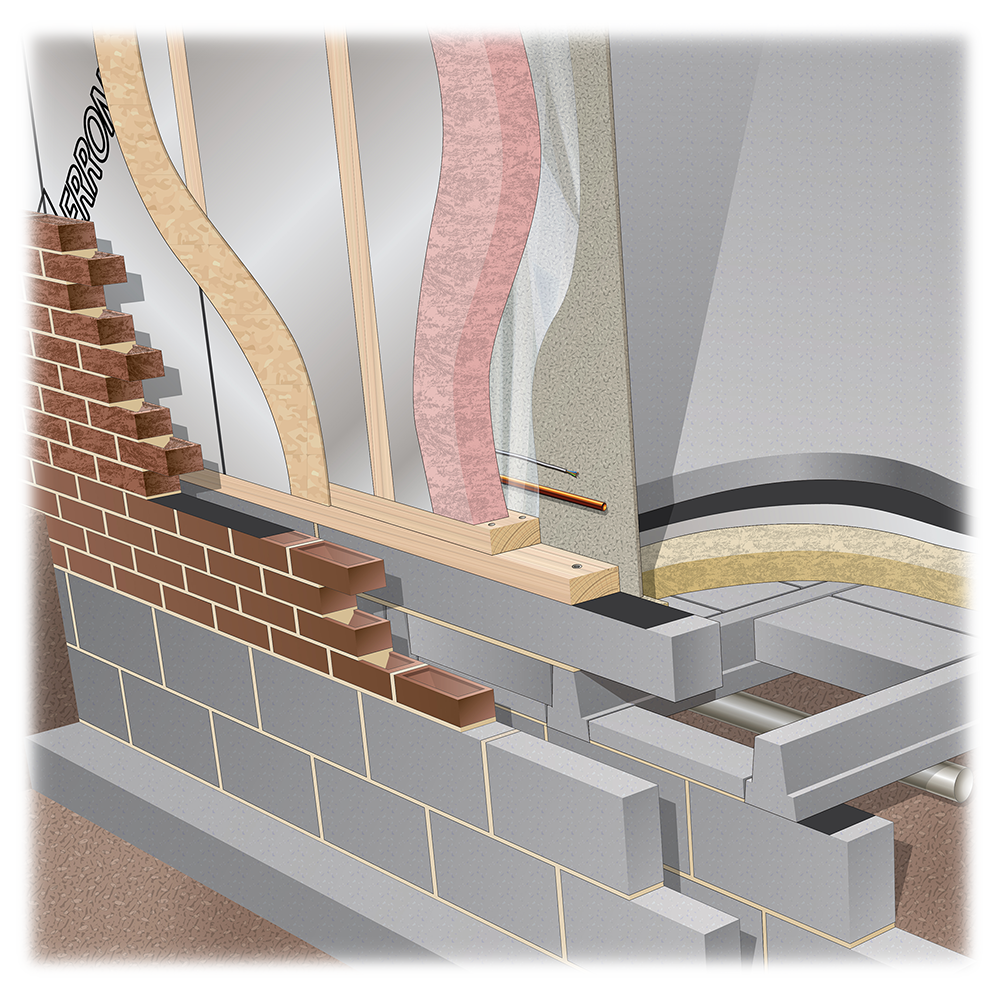 Back
Soleplate Detail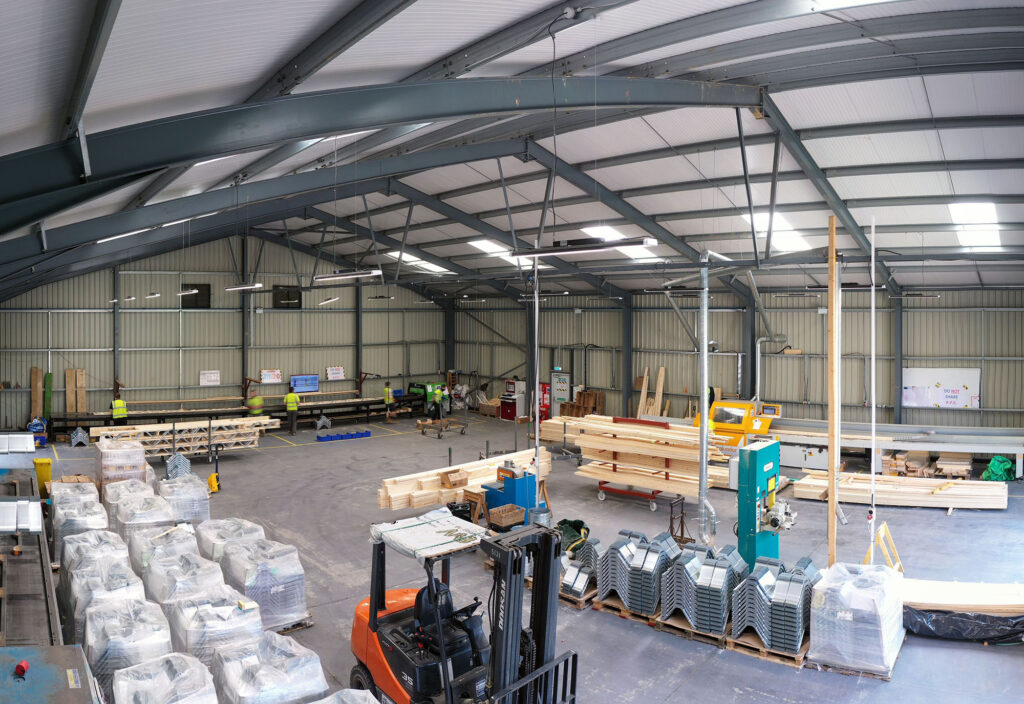 Easi-Joist® Open Metal Web System
We use Wolf Systems' industry-leading easi-joist® open metal web system. Combining the benefits of sustainable, kiln-dried, stress-graded timber with the rigidity and strength of the easi-joist® metal web construction, we provide lightweight floor beams, engineered to precise dimensions.
The advantages of our floor joist system include:
EASIER ACCESS FOR SERVICES INSTALLATION
When installing services in a traditional engineered I-joist, holes need to be cut into the supporting web – a practice which takes time and, in some cases, can affect the structural integrity of the joist. As its name suggests, the easi-joist® open metal web system allows easy installation of services such as pipes, cabling, trunking and ducts in the floor zone. Among its advantages, using this system reduces build time, saves on labour costs and limits any possibility of incorrect workmanship.
GREATER LONG-TERM STABILITY
I-joists and other comparable systems can experience levels of moisture and shrinkage that ultimately affect the structure's long-term stability. The combination of our stress-graded timber and the open metal web system greatly reduces shrinkage factors and results in a quieter and longer-lasting floor system.
The sturdy construction of metal web floor joists allows for a much longer span, in comparison to other types of joist.
LIGHTWEIGHT YET ROBUST DESIGN
Aside from being strong and robust, the easi-joist® system is a lightweight floor joist solution as it combines smaller timber sections with a lightweight metal web.
IMPROVED SOUND PERFORMANCE
Easi-joist® metal web floor systems allow for the installation of a rigid Strongback that reduces vibration and improves the overall acoustic performance of the floor.
The precision-manufactured easi-joists® and floor cassettes all reduce the installation time of the metal web floor system in comparison to traditional techniques, by excluding the need for further drilling and cutting on-site.
Merronbrook's USPs for the easi-joist® system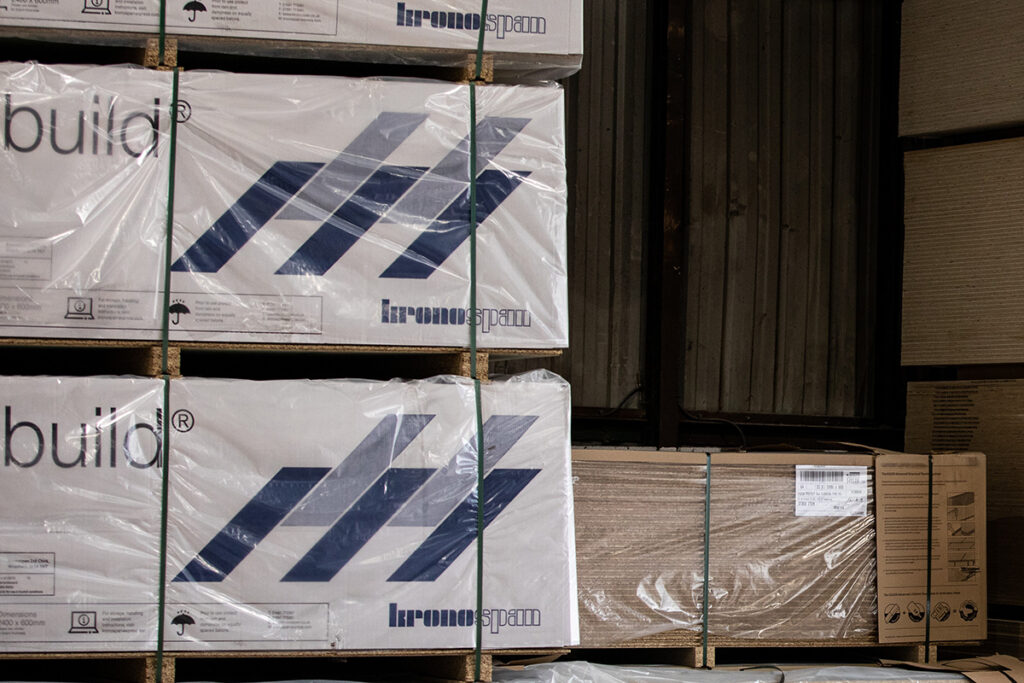 Weather Decking
Merronbrook offers 2 different weather decking systems:
Egger Protect
Painted surface only
Krono Fast Protect
This one has a peel clean surface, once peeled a painted surface is left
Both boards are the same size (2400 x 600 x 22mm)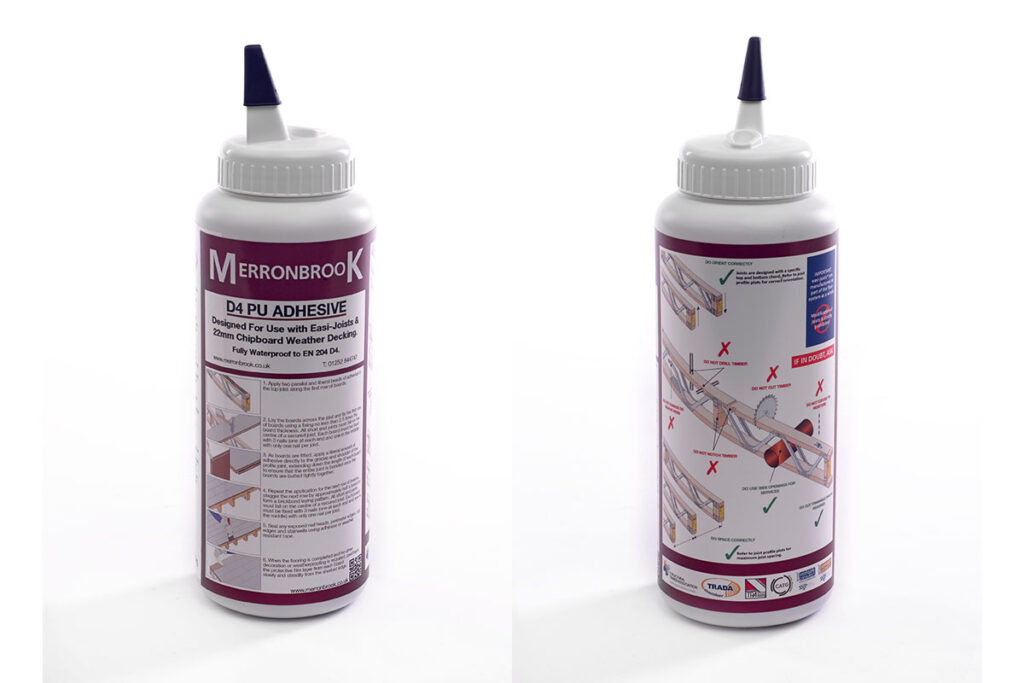 D4 Glue
In accordance with the manufacturer's (decking) guidance, D4 should be used.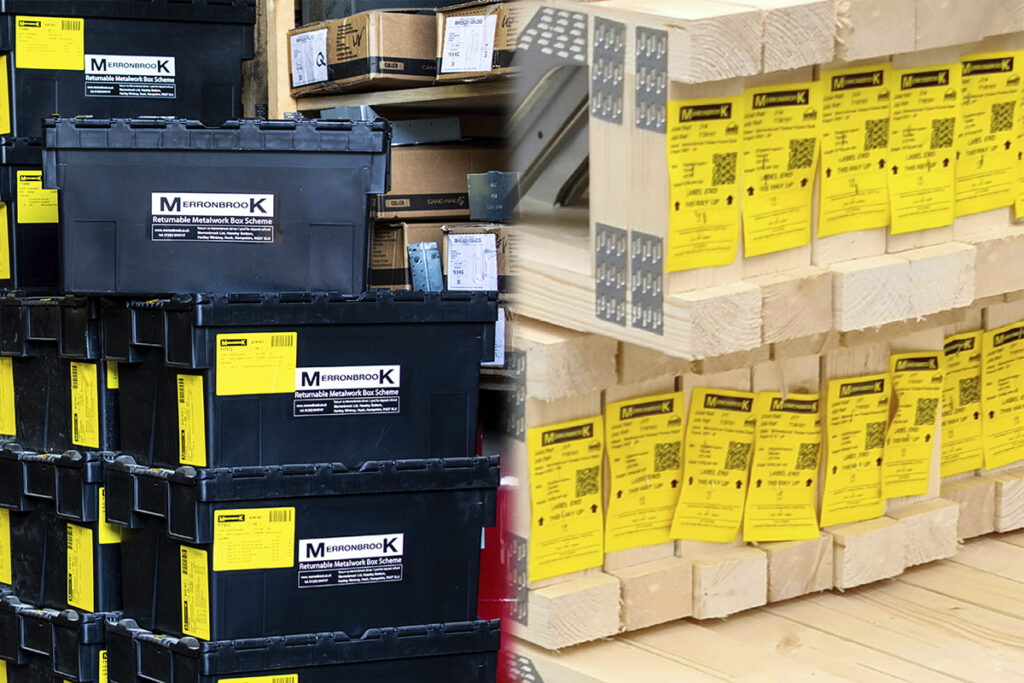 Returnable Boxes and Labelling
Merronbrook offers a unique Returnable Box Scheme for our truss & joist metalwork. This ensures that the connectors for a project are picked, checked, labelled, and security-packaged before being sent to the site, which reduces the likelihood of errors and saves time that would otherwise be spent searching for missing connector packs. Our unique product labelling and site instructions are tailored to our easi-joists®  on every box.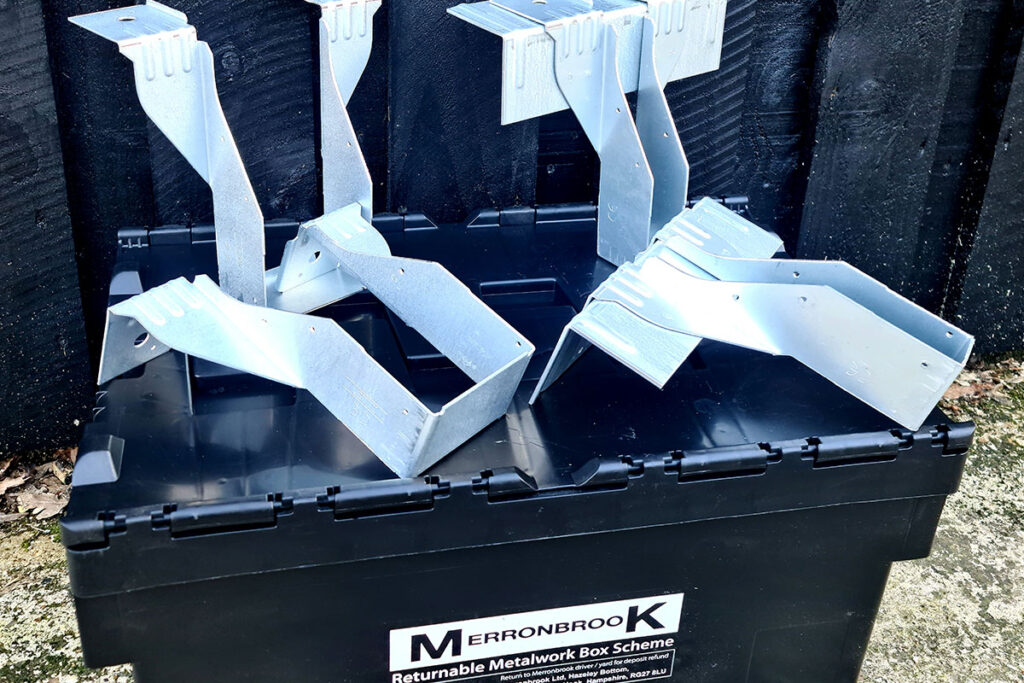 Masonry Hanger Options
Merronbrook uses ITW / Cullen metalwork.
Option 1 – use a standard masonry hanger called JHI
Advantage is low cost. Disadvantage requires a minimum of 3 block courses (675mm) fully cured before the floor can be loaded.
Option 2 – use masonry hanger called RBJHI (RB = Rapid Build)
This more robust hanger offers you several advantages compared to the standard JHI, this hanger does not require masonry above providing a safe working platform. Hanger offers no restraint and parallel straps are required.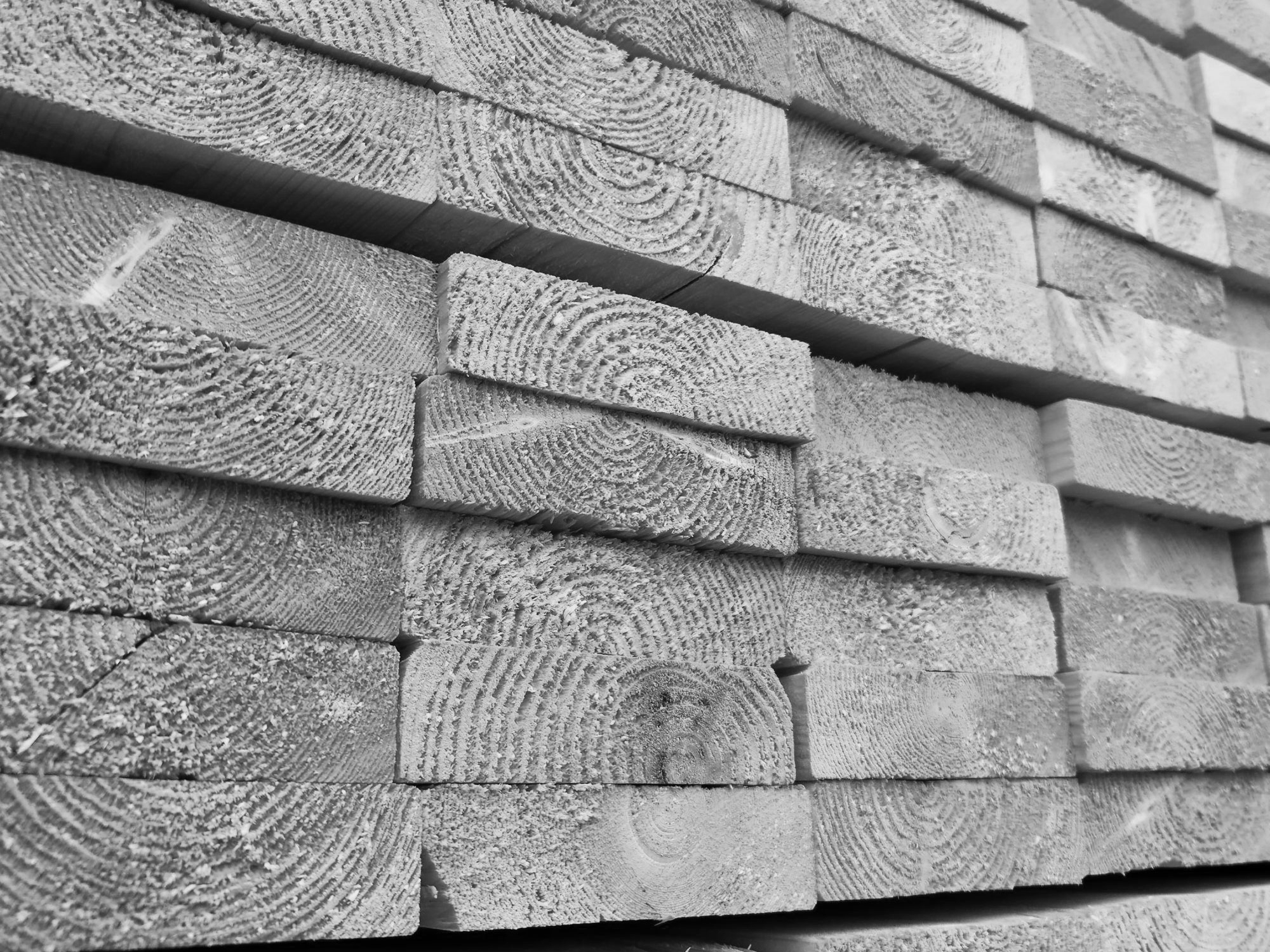 How does Merronbrook manufacture their easi-joists?