DELIVERING TIMBER ENGINEERING EXCELLENCE
Put your Trust in our Trussed Rafters
What are trussed rafters?
Trussed rafters, or more commonly known as roof trusses, are the ideal solution for the structural framework needed to support the roof fabric.
Since their introduction to the UK in the early '60s, roof trusses have proved to be a fast and economical method to form roofs.
Roof trusses offer a vast amount of flexibility and can be used on a wide range of building types including both domestic and commercial structures.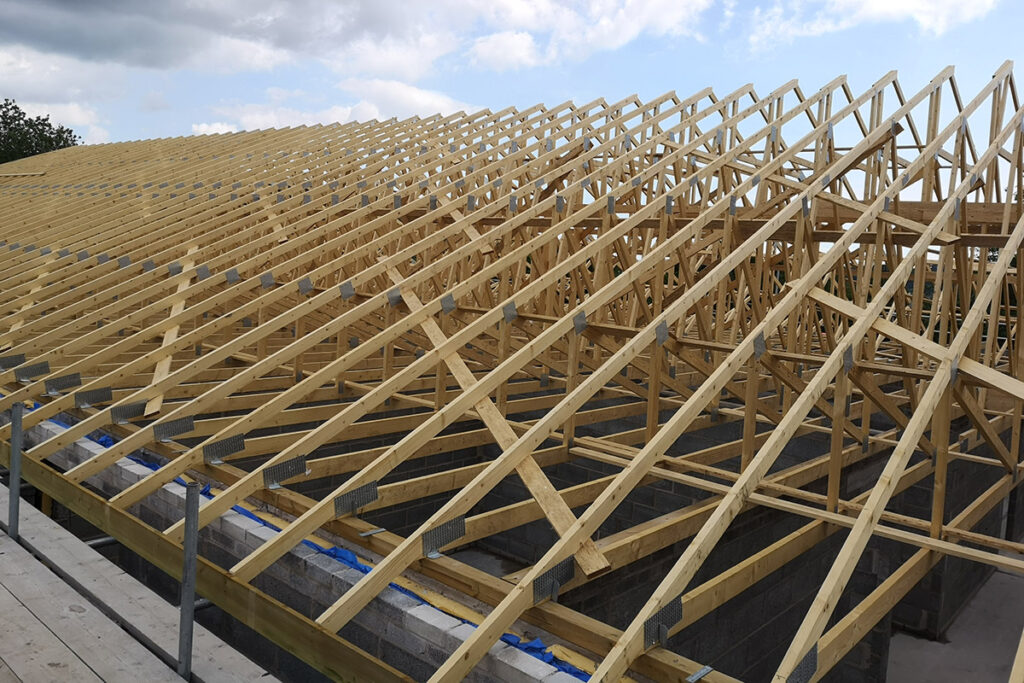 Trussed Rafters
Using quality-controlled jigs, trussed rafters are formed using TR26 graded timber held together using Wolf's connector plates.
There are many various roof styles that are designed for architectural preferences or to match into existing surroundings. Larger spans can be easily achieved by using a heavier section timber, closing the truss centres or making double trusses.
Hipped Roof – General Construction
Once only achievable as loose-cut sections of timber, these roof shapes can now be created by assembling a collection of prefabricated specialised truss components. Using a combination of flat-top girder trusses, mono trusses and loose timber infill, a Hip end can be formed quickly and efficiently.
Click on our interactive model to find out more.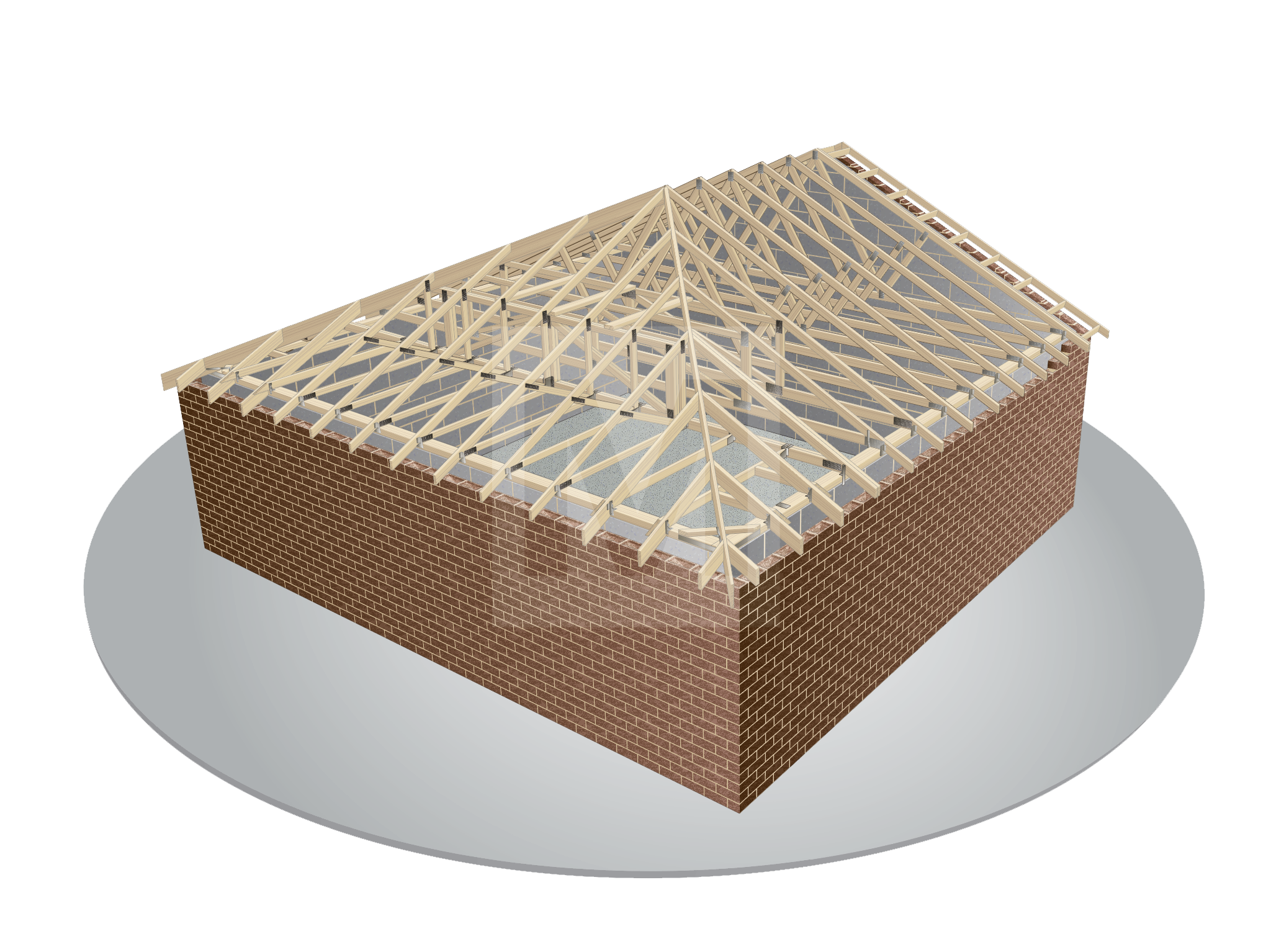 Mono – Hip Truss
Connection Detail
Wall-plate Strap Detail
Gable Restraint
Strap Details
Truss Clip
Detail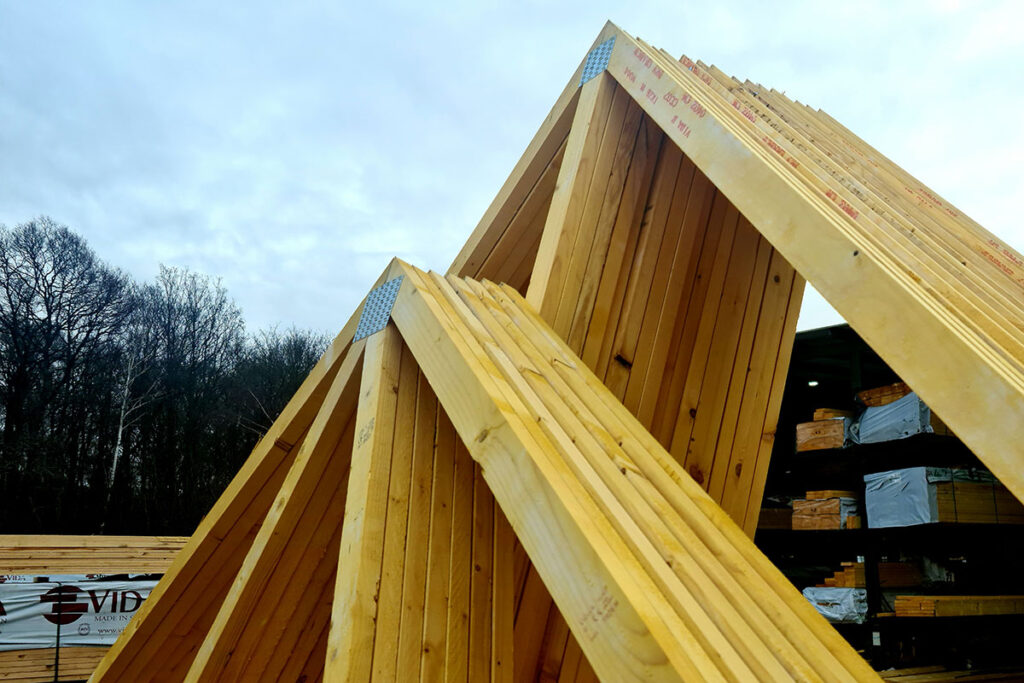 Types of roof trusses:
Fink trusses – A standard truss configuration utilised in most common roof shapes, such as a gable-to-gable dwelling.
Hip trusses – Usually used to create a hipped roof, that is then sloped on all four sides. Can also be used for pitched flat roofs.
Mono trusses – Mainly used in conjunction with hipped roofs, but also as a single sloped roof.
Raised tie trusses – Raised tie trusses are used to increase the height of a ceiling in a room.
Scissor trusses – Scissor trusses follow a similar purpose to raised tie trusses, the difference being that the space is increased mainly in the centre, with sloped ceilings leading up to the middle.
Attic trusses – Also known as 'room in the roof' trusses, attic trusses are built entirely with that purpose in mind.
CNC for quality timber roof trusses
We have invested in cutting-edge technology and a new approach to achieving trussed roof design solutions. Our Computer Numerical Control (CNC) machines achieve perfect accuracy in a fraction of the time, compared to traditional methods. Our strict quality control procedures ensure that as a premier roof truss manufacturer, only high-quality timber trusses leave our factory.
Industry-leading trussed roof design software
Our versatile design software means we can design roof trusses and trussed roof systems for even the most challenging of projects across south east England, using specialist CAD packages and Wolf Systems' leading truss design software.
Timber roof truss solutions
Our manufacturing facility in Hampshire allows us to design a variety of roof truss types to suit a wide range of roof configuration designs. Using WOLF design software, we can design and engineer basic gable to gable roofs to very complicated room in-roof attic space applications.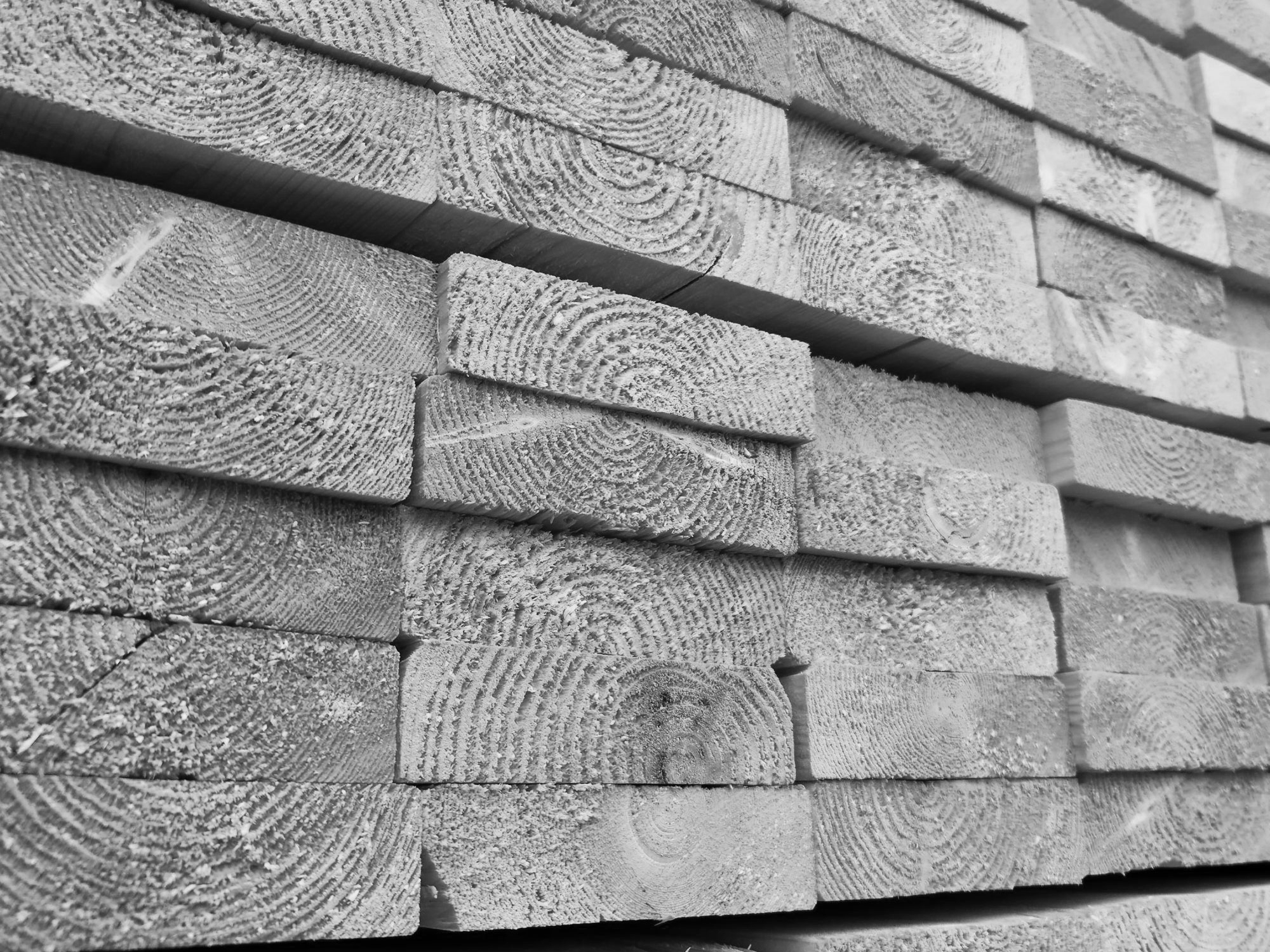 How does Merronbrook manufacture their Trussed Rafters?